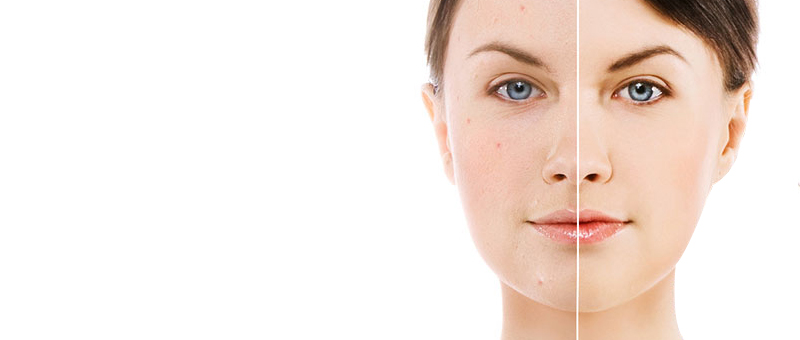 Black Heads
Blackheads as small, dark spots on the skin, caused by a small blockage in the opening of a pore (follicle).
Black Heads
Blackheads as small, dark spots on the skin, caused by a small blockage in the opening of a pore (follicle).
Blackheads are said to be the first stage of acne. They form before bacteria invade the pores of the patient's skin. A blackhead can develop into a pimple, which is also known as a papule or pustule.
Blackheads and acne in general usually develop after the onset of puberty, when hormone levels surge and reach the skin. Certain hormones over stimulate the sebaceous glands, resulting in the overproduction of sebum.
Sebum is designed to lubricate the hair and skin and usually drains out of the pore opening on the surface. Sometimes the sebum becomes blocked and bacteria begin to accumulate. If the build up of bacteria and sebum has no opening to the surface of the skin it is called a whitehead. A blackhead forms if the pore opens to the surface allowing air to enter.
Sebum contains melanin, a pigment. It is the same substance that gives skin its colour. Melanin turns dark (oxidizes) when exposed to air. That is why blackheads are dark. The dark colour does not mean they are dirty, and scrubbing does not remove them.
Several conditions and circumstances can cause blackheads, or make them worse, such as the use of topical oils and make up.
Blackheads can affect people with any type of skin, but are generally more common in those with oily skin.
What are the causes of blackheads?
Blackheads are normally caused by the overproduction of oil. Blackheads are typically caused by the overproduction of oil, which tends to occur when a person reaches puberty.
Spikes in hormone production can result in the high levels of DHT (dihydrotestosterone), a hormone which triggers over activity in the oil glands, resulting in clogged pores.
Treatment for Blackheads
We use several techniques to treat blackheads. Upon your consultation your clinician will advise you of the best option for your individual case.
Prescription Medication
Prescription medications that can be used to treat acne include specialized solutions and tablets.
Skin Peels
We use number of peels that are designed especially for spot-prone skin. Your practitioner will be able to recommend the most appropriate peel depending on your skin type and condition. Our peels clear blackheads and other spots by sloughing away dead skin cells, clearing congestion and encouraging fresh, healthy skin to be revealed.
Related Conditions
Acne
Sun Damage
Related Treatment(s)
Skin Peels
Dermastamp