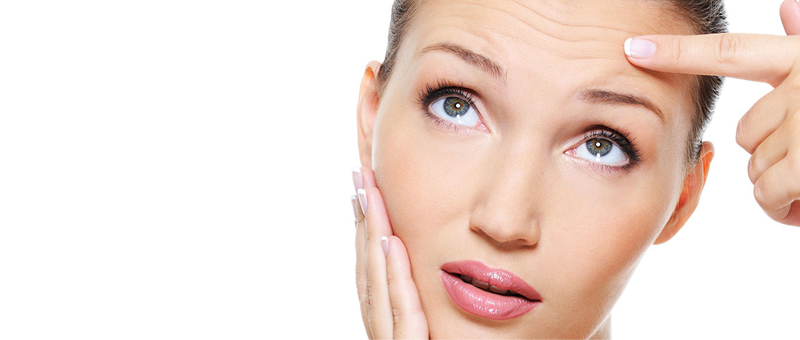 Forehead Lines
Forehead wrinkles can be particularly problematic as you age.
Forehead Lines
Forehead wrinkles are a result of the natural and repetitive motions of the muscles called frontalis that comprise the forehead and eyebrows. These muscles fold the skin as skin loses its structural proteins as we age, and eventually the lines don't disappear when we stop raising the eyebrows. These are also commonly known as Worry lines.
Forehead wrinkles can be particularly problematic as you age. This large, highly visible area of your face is particularly prone to wrinkle development. The most basic causes of forehead wrinkles are due to less skin-enhancing estrogen. As a result collagen production decreases and the strength of the elastin in your skin deteriorates. As collagen production begins to slow down, your skin loses its suppleness and firmness, causing wrinkles and fine lines to become more pronounced. And when elastin begins to lose its flexibility, your skin doesn't "spring" back into place as quickly as it used to, increasing the appearance of lines and wrinkles. If you already have a high level of free radicals in your system due to environmental factors like exposure to UV rays, toxins and cigarette smoke, this process may be accelerated.
Even if you're not experiencing Hormonal Aging, the natural process of Genetic Aging results in the breakdown and weakening of collagen and elastin over time. Whether it's the result of hormonal shifts or just of time and age, the breakdown of these two proteins leads to the formation of wrinkles, including those on your forehead.
Treatments of Forehead Lines
Skin Peels
It involves chemical solutions to the skin to improve its overall appearance and can be used to treat fine lines, mild acne, melasma, and sun damage. It gradually allows upper layers of aged skin to peel away. These peels can cause a slight burning sensation, a bit like sunburn depending on their strength. Doctor would apply soothing creams and special kind of masks to minimize the discomfort. Downtime varies with the type of peel, from no downtime to one week depending on grade of peels.
Anti-ageing Injections
The majority of patients benefit from neurotoxin injections such as Anti Wrincles and Dysport into the muscle(s) to temporarily relax their motions and smooth out the troublesome wrinkles leaving you looking younger. They are commonly used for crow's feet line, forehead wrinkles, frown lines between eyes and bunny lines on the nose. The aim is to still allow raising of the eyebrows but not so much as previously, to prevent the folds appearing as strongly and as frequently. It takes from 7 to 10 days to see the results and can last for upto 8 months depending on individual's metabolism rate.
Dermal Fillers
Another way of settling the lines is to use dermal filler that fills in the areas where volume loss has happened. Also, deeper wrinkles at times may be filled in with dermal fillers in order to plump and fill lines and grooves. This can be done using popular brands like Juvederm which contains Hyaluronic Acid to replace naturally existing substance in your skin to repair the damage tissues.
Related Conditions
Forehead Lines
Wrinkles
Nose to Mouth Lines
Bunny Lines
Related Treatment(s)
Dermal Fillers
Dermastamp